The phrase "Sourdough" comes directly from the 1849'ers of the gold rush when these miner's would make their bread from a special brew of fermented yeast. It would create a rather sour loaf of bread, this bread was durable, hearty and tasty.
You can even buy sourdough bread today, although it's not as popular as other sweetened breads are today.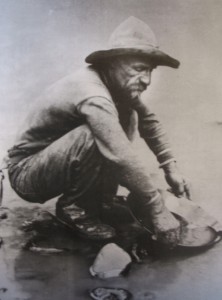 That bread was often synonymous with the experienced gold prospector so much so that the following phrase came about- "Sourdough Miner" meaning someone who had the seasoned experience in finding gold and mining it.
Enclosed below is a little video snippet giving a flavor of what those gold prospectors of yesteryear experienced along with some great pictures and a little tune dedicated to the Sourdough Miner.
A Sourdough Miner was of particular importance for the new inexperienced prospector in the gold fields. To find an experienced sourdough miner to mentor from was crucial to the miner's success. This was because a sourdough miner teacher was often the only means by which they could learn the real art and science of gold finding and gold mining. This relationship is often forgotten for the more spicy aspects of gold rush history related to corruption, brothels and gunfights. We'll leave the latter for late-night TV.
So what's that got to do with you? Everything if you're interested in finding more about gold prospecting gold-mining. We've created this site – sourdoughminer.com as a place to explore more about the nature and characteristics of a seasoned gold prospector and how you become one. A place where we can share together events, techniques, history, and a systematic method for finding gold.
Enjoy!
Prospector Jess